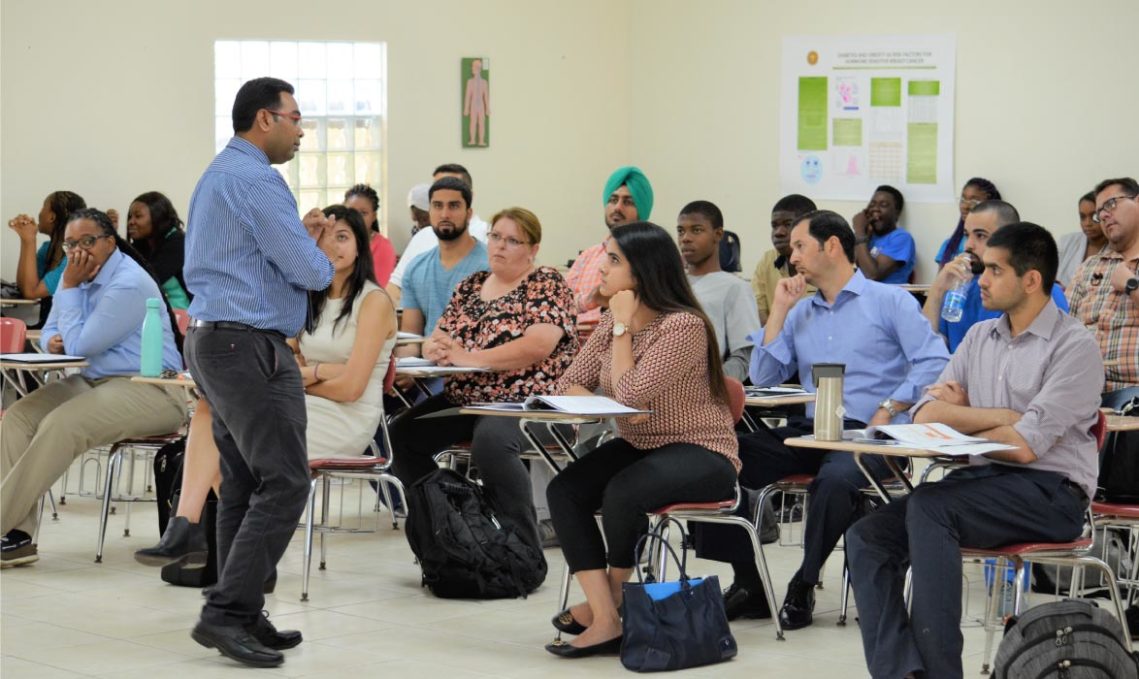 BASIC SCIENCES CURRICULUM
The Basic Sciences Curriculum at Windsor school of medicine is delivered through 13 systemic modules which is designed to allow students to get an overall understanding of each course. More importantly, it addresses the relationship of each course content to one another and integrates with Introduction to Clinical medicine which will lead to a stronger foundation for learning more advanced content throughout the program. By combining or learning courses in relation to each other leads to more meaningful learning and greater retention. As you proceed eventually into the Clinical program this firm background of knowledge and understanding will serve you well. Clinicians, at times, depends on a clear understanding of how each of these subjects relates to each other. The basic sciences will also have Themes (Frontiers and Introduction to Clinical Medicine) which will be covered throughout the Year 1 and 2. "FRONTIERS" will comprise of research covered under principles of biomedical research, and topics related to the role of physicians in a global society, public health, epidemiology, and biostatistics. It will be an important component of the curriculum which will be covered over Year 1 and 2. "INTRODUCTION TO CLINICAL MEDICINE" will be covered and integrated with each module. It will cover the clinical aspects, including history taking and examination, of the relevant systems across all the modules covered in years 1 and 2. Medical ethics will also be covered as part of this theme.
FOUNDATION OF NORMAL PROCESS
The modules covered in the first half of the basic sciences curriculum are termed as "FOUNDATION OF NORMAL PROCESS" which basically covers the normal structure, function and biochemical aspects of various systems and is covered over 7 modules. The following courses are selected because together they serve as the foundation of the normal process: Anatomy & Embryology, Physiology, histology, cell biology, biochemistry, and genetics.
FOUNDATION OF ABNORMAL PROCESS
The modules covered in the second half of the basic sciences curriculum are termed as " FOUNDATION OF ABNORMAL PROCESS" which basically covers the abnormal structure, function and microbiological aspects of various systems and is covered over 7 modules. The following courses are selected because together they serve as the foundation of the abnormal process: Pathology, Pharmacology, Microbiology, and Behavioral Science.
INTRODUCTION TO CLINICAL MEDICINE SERIES
Medical students at Windsor have a unique opportunity to experience the learning of foundational knowledge with early exposure to clinical setting with adoption of system based modular curriculum aligned and integrated with courses called Introduction to Clinical Medicine Series.
These courses are taught in our new state of the art Simulation Centre by experienced and dedicated faculty who care about what student learn. They use the advanced simulation man and model to replicate clinical scenarios and also use Standardized patients in course delivery and assessment.
The clinical cases used in each of these courses are designed to sequentially integrate with the system taught in the modular curriculum. Further integration is achieved through OSCE Station designed to align with each system. These integration envisions context before content philosophy and helps students to assimilate the foundational knowledge better.
These ICM courses develop necessary clinical skills by demonstration and supervised practice followed by Role Playing which are augmented by interactive lecture and small group discussions. Questions on relevant patient care and communication are also tested in each of the End Modular Exam thus integrating the assessment.
MD I: FOUNDATION OF NORMAL PROCESS
This comprises of 3 modules: Fundamentals Of Basic Sciences I, Musculoskeletal And Integumentary System I, Cardiovascular And Hematologic System I and Respiratory System I.
This comprises of 3 modules: GI And Hepatobiliary System I, Endocrine And Reproductive System I and Renal And Nervous System I. Apply now to get started in your medical career, or call us to learn more.
This comprises of 3 modules: Fundamentals Of Basic Sciences II, Neoplasia And Immune System and Cardiovascular And Hematologic System II.
This comprises of 4 modules: Respiratory And Nervous System II, GI And Hepatobiliary System II, Endocrine And Reproductive System II and Renal And Musculoskeletal System II.
The Windsor University School of Medicine's MD V course prepares students to be effective, competent and confident in their hospital clerkships. Practical application of the techniques and theories learned throughout previous MD courses is critical, along with electives that foster a well-rounded medical education. To learn more about studying medicine in St. Kitts, call us today.
This course aims to provide a platform for active learning where the students review the content that is assigned by the course faculty and meet during the scheduled encounter sessions where the content assigned will be reviewed and assessed in the form of formative and summative quizzes.This course helps students to analyze a clinical problem starting with presenting symptoms and logically develop an algorithm for the analysis of signs, investigations, identification of the disease process, distinguishing from other related entities, deciding on the course of illness, principles of initial management and explaining all these on the important concepts of basic sciences learnt from the previous courses in the medical school. Details on the management of patients will be taught in years 3 and 4 during the clinical clerkship, and hence will not be overly emphasized in this course.
This course helps prepare the student for hospital clerkships. Daily lectures on the pathophysiology of systemic diseases are correlated with the Comprehensive basic science review course. Students learn how to present cases and to do library evidenced based medicine research for strategies leading to a definitive problem solving approach. Patients visit the JNF hospital, which will provide the student with hands-on experience. Students carry a small caseload and are expected to be on-call with the island physician.
Electives
Electives are offered to Basic Sciences students during the first two years of the four-year medical program. The objective is to provide a structured learning experience in diverse clinical and scholarly areas. This gives students the opportunity to integrate Basic Sciences knowledge into clinical areas and may provide a transition into clinical medicine specialties. These elective courses provide enhanced value to the WUSOM curriculum.
Electives are offered by various departments and coordinated through the Office of the Dean.
All elective courses mandate 100% attendance to meet licensing and certification requirements. In addition, there are additional fees, costs and equipment requirements to participate.